by Rebecca Apodaca 2010 ©
This is a common question that music stores are asked. In reality, here in the USA, the word "fiddle" is a nickname for a violin. Bass Fiddle or Bull Fiddle is a nickname for a Double Bass. Around the world, the term "fiddle" is classified as any bowed lute. Folk fiddles are made of many different shapes and sizes and are popular in the Middle East, Asia and Europe.(1) We all enjoyed hearing and seeing over 60 Chinese Erhu fiddle performers during the 2008 Olympics as well as Composer/Music Director, Bian Liunian, as part of a NAMM show Breakfast of Champions.(2)
In North America, the term fiddle is more commonly used in Bluegrass, Blues, Celtic, Country, and Cajun, Jazz or Zydeco styles of music. In Northern Native American culture there is an instrument called the Apache Fiddle, that is made from a small piece of a hollowed out cactus or yucca stock with a single string that is bowed. The Cuban and South American fiddles have hollowed out cane bodies.
Physical Differences
Some of the physical differences between a violin and a fiddle are a flattened bridge, the use of steel strings and fine tuners. Instead of the classical violin arced bridge, the fiddle's flattened bridge gives the ability for "double stops" or "triple stops." (Playing two to three strings at a time) Double stops are a way of playing harmony lines. The use of double stops makes for a fuller solo, than by playing single notes. Think of Charlie Daniels music. Gut strings give orchestral music a full rich tone, while steel strings are brighter and much cheaper. It is hard to tune a friction-pegged violin that has steel strings. Fine tuners installed on the tailpiece aid in the tuning. It is uncommon to see professional orchestra performers using four fine tuners, but very common amongst fiddlers. The other thing you will notice is the violin is played under the chin. The fiddle is played on the arm so as they could still call for square dancing.
American made violins and fiddles
European luthiers started making their way to the USA and brought their craft with them. Starting around the 1800s, violins started being produced here in the USA. Amongst these craftsmen, two names that are still common today, were A. Herman Glaesel of New York and Wm. Lewis and Sons of Chicago.(3) There were many more individual makers and groups of several violinmakers started in New York and Minnesota. Many times in rural areas of America, folk instrument fiddles were made by a handy sort of guy instead of a trained luthier and were made flat and out of inexpensive wood.
Guitar luthier RC Allen and his American violin
In 2007, I had the privilege of being asked by one of the last of the great guitar builders of his generation, RC Allen, to restore his unusual American-made violin.(4) California raised RC Allen is the owner of Bigsby's secound guitar.(5) Allen eventually built for guitarists Merle Travis and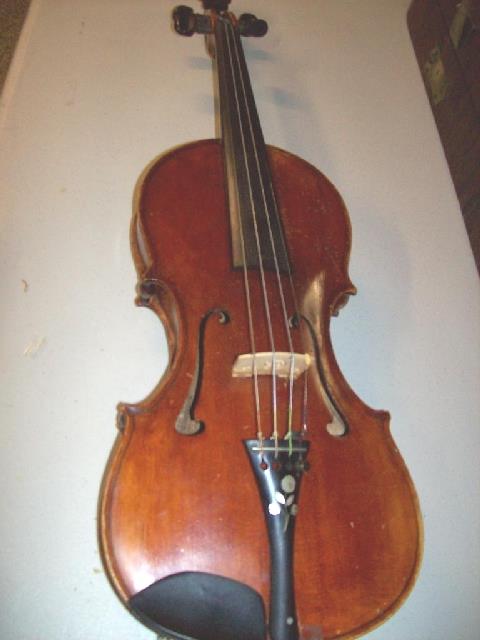 PINIMAGEDel Casher. Del was one of the technical consultants in creating the wah-wah pedal.(6) Allen's guitars and inlays are true art and play like butter. He was intrigued with this violin because of the decorative turnstile looking posts at the C bouts. They looked like miniature table legs. It also had stylized reversed looking f-holes that I had never seen. Was this feature part of the "Americana" style of American violin making? Was this a true fiddle? The violin included a beautiful coffin veneer case with brass decorative hinges. He had hit a dead end in his research of this Minneapolis violinmaker and asked me to do the restoration and more research. The label said E.A. Thompson 1896 Minneapolis, Minnesota.(7)
During my research, I discovered the original patent for the "Improved Violin" that E.A. Thompson registered.(8) In it explained that he felt the posts at the C-bouts were to transfer tone more equally from the top to the back of the violin. He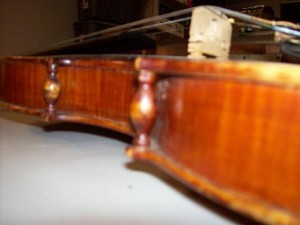 PINIMAGEalso felt the change in the reversed f-hole gave a louder sound compared to traditional design. Unfortunately for Thompson, his design was not successful. I could not find one comparable sale for this violin. After the restoration, Allen was kind enough to loan it to NAMM's Museum of Making Music in Carlsbad, CA for a show on American made violins.
How do the values compare between violins and fiddles?
As a Certified Appraiser, I have to look at the realistic values of what has previously been sold, whether I agree or not. I found some interesting tongue and cheek values comparing the violin to the fiddle. "A violin is purchased from only the most reputable dealers for no less then $10,000.00. A fiddle was picked up at a yard sale."(9) "If it costs more than $50, it's a violin."(10) Or "There ain't a dimes worth of difference, thar the same instrument, just different ways of playing them!"(11) He is right. The value of the instrument is judged by the quality of the wood, the condition and who's the violinmaker.
So whether you study/perform on a violin or a fiddle, the instruments true value is the tonality you create when you perform with attitude. This violin is a bit of American history and Enoch Alonzo Thompson was memorialized in a book of Minneapolis violinmakers called, " Violin and Bow Makers of Minnesota" by Thomas Wenberg. In verification with the publisher, the book states that Thompson starting making violins in 1900. Due to the patent date and the date in the actual violin, the publishers said, that if another publishing was done of the book, that this information would have to be included. (12)
---
(1) "Musical Instruments of the World" The Diagram Group
(2) http://www.beijing2008.cn
(3) "An Encyclopedia of the Violin" A. Bachmann
(4) RC Allen
(5) "The story of Paul Bigsby" A. Barbiuk
(6) Del Casher
(7) "Violin and Bow Makers of Minnesota" Thomas Wenberg
(8) US Patent Office No 24,336 May 28, 1895
(9) http://www.flyinfiddler.com/what.html- Chester LaFountaine
(10) http://www.flyinfiddler.com/what.html- Scott Cruzene
(11) http://www.flyinfiddler.com/what.html- Roy Miller
(12) Schubert Club, Minneapolis. Minnesota
Additional resources
Minnesota Historical Society
Dr. S. Timothy Maloney Adjunct Professor Head, Music Library University of Minnesota