Ukulele, Ukulin, Ukele, Guituke, Polk-a-lay-lee, Treholipee …. What the Hey!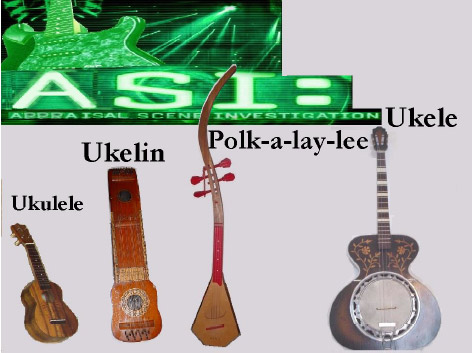 The
Ukulele
is a fun take along instrument for any occasion. The ukulele came from Portugal. They were originally called Cavaquinho, Machête or the Braguinha and were carried by Portuguese sailors to the Hawaiian Islands. The Hawaiians started producing their own, and called them ukuleles There are seven different sized ukuleles; Soprano, Pineapple, Concert, Tenor, Tenor 6-string, Tenor 8-string and Baritone as well as the Banjo-uke, Banjolele & Fluke. Cabinetmakers/sailors Dias, Santo and Nunez were the first to make commercial versions. Martin Guitars started making some of the best in the world. I asked Chris Martin, why did they not have serial numbers on the ukuleles. He told me, that in the late 1800's, his great-grandmother asked his great-grandfather to make her one. He thought it would be a one-time instrument. Some of her friends also wanted one, so he started making a few for friends. From there it took off. They never put serial numbers, since they were made in random batches and were unsure of the amount that had been previously produced. Then came the great Hawaiian Kamaka ukuleles. Shortly after the turn of the century, Samuel Kaialiilii Kamaka began crafting koa ukuleles from his Kaimuki, Hawaii home. In 1916, he formed his one-man shop. They have a tone and Koa beauty like no other and provided this photo.
Ukulele's "Hey day" was in the 1920's. In the 1990's ukuleles made a comeback, I have seen a stronger desire to buy or to have their family ones restored. They can also be valuable. Recently, I took in a Gretsch Soprano and a Gibson Soprano for restoration. Fair Market Value close to $2,000 each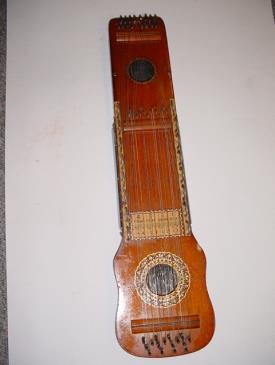 PINIMAGEThe Ukulin – is a bowed psaltery, originally made in the 1930's as an Americana instrument It is played by combining the plucking of 32 strings, like a ukulele, and bowing like a violin. Rectangular in shape, it has two sound-holes and plucked with one hand and bowed with the other hand in between the metal loops. To hear it http://www.youtube.com/watch?v=pBkJ5eWaxgA. The instrument can be leaned at the edge of a table for support. Fair Market Value $350.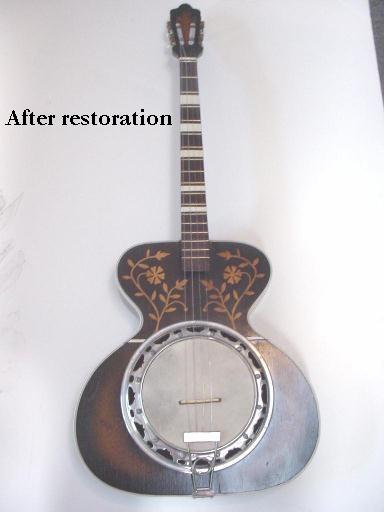 PINIMAGEUkele -A family brought in a wood guitar shaped instrument with a deep waist, a banjo head mounted in the middle and four strings. The man who built it was originally from Indonesia and had passed on. It had inlaid tulip shapes and the fingerboard had strips of bone. By it's appearance of wood and materials, it appeared to be made circa 1960. I researched Gamelan instruments, but nothing. I sent out an email to a musicologist at UC Santa Cruz. She said it definitely wasn't Indonesian, and said another musicologist in Spain would know what it was. She copied me in her email. The musicologist in Spain did not know what it was, but was sure his colleague in London would know. About a week later, the Spanish musicologist received an email from the London musicologist saying, "I don't know what it is, but there is a woman who restores instruments on the West Coast that I am sure will know, I will locate her for you." The next day, I received an email from the London musicologist with my own pictures, asking me if I knew what this instrument was….… I realized my own email chain had landed right back in my lap! I had come up with the information that it was called the Ukele, but everything traced it to Hawaii. The restoration was done. I called the family and told them I was unsure of the origin, but I thought it was an instrument from Hawaii called the Ukele. In a conversation with his widow, I discovered that her husband had moved to Holland to live with his father, a violinmaker. Ahh! This explained the tulips. Then he had moved back to Indonesia. In the 1960s his widow said, that a group of Hawaiian musicians had come to Indonesia and performed on a guitar shaped instrument that fascinated her husband, and he decided to build one. It was indeed the Ukele!

PINIMAGE
Guituke – A woman came into my shop that played a small guitar but wanted to join a local ukulele group. She asked if I could modify a guitar to make a large 6-string ukulele. I had previously sold her a Hohner 36″ child's guitar. I looked at the spacing that a 6-string ukulele had and carved a new nut and redrilled the bridge. Two of the strings are doubled like a 12-string guitar. Then I took two sets of classical guitar strings and made one set of strings with the right diameters. I contacted Hohner and three musical instrument scientists, to make sure the tension
would not tear apart the bridge and created the instrument she desired. Since it was half guitar and half ukulele, we called it a Guituke!
Polk-a-lay-lee – A man called me and said he had a stringed instrument he had spent 15 years trying to find a missing string. When he came in, the instrument had a small almost triangular shaped body with a sound-hole, but with the longest curved neck made of plastic. It stood over three feet long. It had friction style, plastic, red pegs. Written on the curve was the word Polk-a-lay-lee. I measured the diameter of the other strings and realized that an Augustine single nylon E string might work for the right diameter and length. I installed the string, and in a few moments it was in playing condition. I took a picture, then researched it, and found it was a company about 15 miles away, in San Clemente, CA that manufactured them. There were also other companies in Chicago and Ohio with a different spelling. You could play it, then when you wanted to go back in the ocean, you turned it upside down and poked it into the sand. Even if the tide came in, it would still be OK, because it was so long and was made of plastic. Another company tried to make another version and called it the Treholipee.

PINIMAGE
Please send in photos of instruments that you would like for us to investigate to Rebecca at www.admusic.net