Kerry Keane, Richard Gere and G.E. Smith

By Rebecca Apodaca
The V.P. of Musical Instruments at Christie's Auction House in New York, guitarist Kerry Keane, invited me to the New York reception for Richard Gere and his guitar/amp collection. It was understandable that Gere was having a hard time parting with more than 100 of "his friends." They were all classic, great instruments. The reception was full of collectors and enthusiasts, such as former "Saturday Night Live" guitarist G.E. Smith, retail mogul Sam Ash, Chef Heidi Ortiz and famed guitarist Al Dimeola.
Most appraisers set values by their opinion. As a Certified Appraiser, I must set value by comparable sales. This auction is also for charity, meant to help worldwide humanitarian causes, prompted by Gere's Buddhist beliefs. Items for charity can sell for more than Fair Market Value, as the buyer knows that a portion of the proceeds is going for charity. The IRS lets you take a donation as a tax deduction for the difference between the FMV and what you paid for it, but not for the entire item if you can use it. Sometimes, items sell for less. The Gere auction will not only help set values for future sales of Gere's guitars, but also aid in setting value for other celebrity actors who also collect musical instruments.
First Identify, Then Set Value
First, the model and year have to be identified. I have to research comparable sales on two to three levels; once is for the instrument itself, by make, model, year and condition. I also have to see if the instrument was used in any recordings or live-performance venues; was placed on public display, such as in a museum; and whether it has been recorded or featured in a movie. Then, the next value would be researching sales of items by other celebrities. Even if an item is not in good, workable condition, it can still sell for a higher amount because it was celebrity owned.
Celebrity Signed
We see artists signing photos, drumheads, pickguards and guitars at the NAMM shows every year. The value of "celebrity signed" is not the same as celebrity owned/played. Even as a technician, I have to be careful on restoration. Wouldn't a guitar owned by Jimi Hendrix, with his sweat and fingerprints on the guitar, be worth more than one that has been all cleaned up?
Proving It
The best evidence to have is a photo of the celebrity with that particular instrument, as well as a signed statement that he or she owned it. In the case of Gere's auction, that will be much easier for any of those buyers to prove. There is an auction catalog that registers the instrument, and Gere has endorsed the sales.
---
Rebecca Apodaca and Heidi Ortiz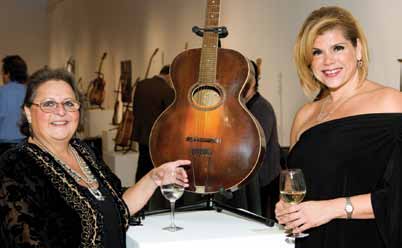 Auction Prices
Auction houses will offer free appraisal days. Clients can come in with an item, and the auction house will determine a range of value within which it feels it can sell the instrument. These are not Certified Appraisals and cannot be used for insurance coverage, estate settlement or tax donation. Auction houses charge listing fees and photographic fees. The buyer and the seller are each charged 10 percent. This is how the auction house makes its income.
Let's Compare
As a comparison, I took Lot 2 sale 2519, the c.1932 Gibson Flat Top L-O Factory Order Number 328 stamped at neck block. (Gibson's FON numbers were inconsistent during this time.) In 1932, it sold for $35. The auction est. was $2,500 to $3,500. I found another that sold for $2,000 and one that is asking $3,299. This guitar was in a scene from the movie "Runaway Bride," starring Gere. Christie's sold it for
$11,250
.
Kerry Keane at Christie's said he didn't add any celebrity value on his pricing. "We'll let the market make that statement. There is something here for all income levels," he said. There was a Baby Taylor Acoustic Guitar, auction est. $100 to $150. A set of grandparents was contemplating buying it for their 7-year-old granddaughter. These prices enticed more bidders. People get excited and think that, for only $100 more, they can own their dream, but the bid keeps going up. The Taylor Retail Price is $398. Christie's sold it for
$563
. Lot 92 sale 2519 Guitar Stereo Amp, Super Echo Twin, Model ET-2, c. 1963 auction est. $600 to $800. Price guide: $1,200 to $1,500. Christie's sold for $1,188.
The Outcome
Some of the final prices were higher than the auction est., whereas some were lower than price guides and other comparable sales. Others were 10 times higher than FMV. Many fell right into the range that Keane has set. He knows his market. Keane estimated the value of the collection pre-auction at $1 million. The total amount of sales was
$936,437
, including the buyer's premium. I recommend tracking a few instruments, and then going to an auction to enjoy the excitement. You can even bid by telephone and at an auction Web site. Keane has helped Christie's to recognize the value of guitars. Thanks to Brian Berk, Dan Ferrisi and The Music & Sound Retailer for helping to explore the importance of valuation in our industry. I will be penning a new column, called Shine a Light, as well as other articles that will feature something special about our retailers. I've had my store for 34 years and, sometimes, I feel like Micaela Corleone: "Just when I thought I was getting out…they puuuulll me back in."

---
Rebecca Apodaca can be reached at admusic@cox.net.