By Rebecca Apodaca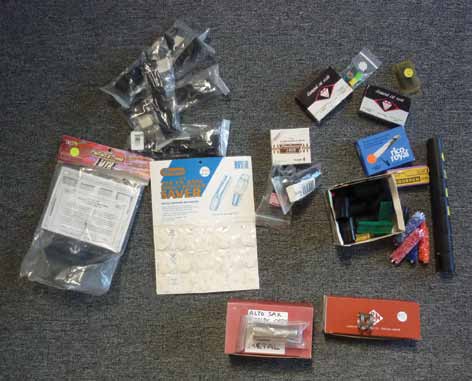 In setting value to an instrument, an appraiser must also include the values of the case and any pertinent accessories. The term OHSC or OSC is used. OHSC stands for original hardshell case; OSC is original soft case. Most OHSCs are made of wood. Some of the first musical instrument cases were made by coffin makers. Precision was taken to measure the instrument to the point that the case fits the instrument like a glove. Some look similar to a coffin, whereas others have more of a flat-angled instrument shape. Every part of the instrument is supported. They were either made out of a local wood and painted black, or made out of quality wood with a clear finish to show the beauty of the wood grain. Brass hinges and handles were used to embellish and adorn, similar to the way coffins were sold. They were joined with either tongue and groove construction or small finishing nails. Some had a felt or velvet lining, whereas others had only a paper lining to help protect the instrument from scratches that could be made by the wood case. Some of the cases had a leather covering. Vintage band instrument cases were usually more of a squarish shape with a handle on top rather than on the side. OSC were only a cloth bag or quilted type of bag with a drawstring that was used to carry the instrument. Some were made of a compressed thick paper/cardboard with leather hinges and handles with brass brads to connect them.
Helping To Set The Date
These original cases can also help to set the date of an instrument that might not have a serial number. I am constantly being told over the phone, "I have an original Martin guitar" or "I have one of the first Martin guitars ever made." Usually they arrive with one made in the 1930s or 1960s. Martin started in 1833. I had one of those calls and, when the client arrived, the case was wooden and a flat-angled style case painted flat black. I got excited. My dad nudged me, and said quietly, "Look at the nails." I saw the tops of the nails were square shaped. Round-headed nails were not used until the late 1800s. Martin did not start serializing their instruments until 1898. After much investigation of shaping of the bridge, the braces, design of sound-hole rosette, ice cream cone-shaped neck heel and other features, I determined it was c. 1865. I always ask the client to leave everything in the case as, many times, the shaping of mouthpieces, string packages, reed guards, reed cutters, oil dispensers, swabs, mutes, lyres, capos, picks, pitch pipes, old bridges and bridge pins can support the date of the instrument. An appraiser has to take into consideration that any accessory could have been replaced or added during the entire life of the instrument. These accessories can help in supporting the date of that instrument.
Case Value
The appraiser must list the instrument's type of case and condition in the appraisal report. Even in modern-day instruments, there is quite a difference in the value of a soft padded bag compared to a plastic injection-molded case, foam with canvas-covered case or a metal flight case. An appraiser must look up the value of what the case might sell on its own. If they are looking at comparable sales, they also have to check to see if the instruments they are using for comparisons had an OHSC or no case and add or subtract from that value to be accurate in setting the value for the one they are appraising. If the instrument is vintage, we also try to include in the photo a picture of the case, if it was original. If you are using the vintage instrument and need a new case, keep the original case as part of its history, even if it is damaged. If an appraiser has access to the original price lists from the manufacturer, then he or she should look at the difference in value in cases offered. Most band instruments are sold with cases. Not all guitars or violins are.
Mouthpieces
Band instrument musicians will have more than one type of mouthpiece: perhaps a general one that came with the instrument, as well as upgrades that are used for a better tonality. One mouthpiece alone can be worth several hundred dollars. The value must be included in that total value of the instrument. When we quote an appraisal fee, it usually includes the instrument, the case and one mouthpiece. Additional mouthpieces will be a minor charge, but can affect the total value of the instrument.
Fretted Instrument Accessories
When we are setting value for collections, we remind people to include instrument, mic and speaker stands, effect pedals, cables, external pickups, sound reinforcement amps, speakers, tuners, hand percussion and microphones. Accessories will add up to a couple of thousand dollars very quickly. We will usually do groupings of small goods to save the client the cost of appraising each accessory. We will photograph accessories in groups and might list them with one or two collective values. If they had a total loss, they would be able to claim all the accessories. Please contact us for inventory sheets to help organize your instruments and accessories.

---
Contact Rebecca at admusic@cox.net.