Courtesy Rebecca Apodaca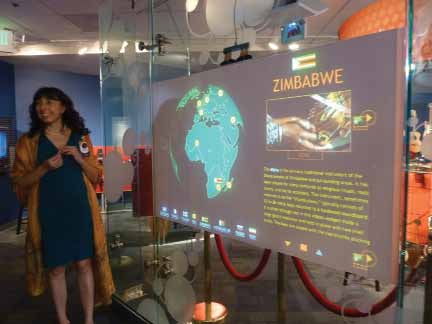 PINIMAGE
The Museum of Making Music, located in NAMM's offices in Carlsbad CA, is now affectionately being called MOMM. Soon after celebrating its 10th anniversary, MOMM received a grant for a partial remodel of Gallery 5. The re-opening party included a red carpet, a jazz band, wine, hors d'oeuvres, more interactive displays and a new international gallery. Curator Tatiana Slovenko is shown, standing at the latest technological experience. It looked like the glass screen out of the movie "Mission: Impossible." You spin the globe and, when it stops, certain countries are featured. When you touch that country, information about the music of that country is listed, as well as a video. When touched, the video comes alive, showing performing musicians of that country. This is a must-see when you come to California for the Winter NAMM show. The re-opening hosted 250 invitees. In attendance was Museum Director Carolyn Grant, Historian Dan Del Fiorentino, Museum Board Member John Hall of Rickenbacker, NAMM President Joe Lamond, Luthier RC Allen and A & D Music's President Rebecca Apodaca.


---
Contact Rebecca at admusic@cox.net. To obtain references for this article, e-mail dferrisi@testa.com.