Hard to Find Comparable Sale
 Rebecca Apodaca © 2010
In authenticating and appraising instruments, we run into variations of a model. In the freedom in creating a new model, there are parts from the prior year that are melded into next year's models. All parts are not discarded off the assembly line on December 31 because the new year's model will be starting the next day. A hard to find comparable sale is the small run of a particular model; a switch in serial number system; an independent maker; or instruments that have parts from one year and a serial number from another. In the past month this has happened three times. It takes an industry to have all the answers.

SR Exclusive Electric Guitar – B.C. Rich – Bernardo Chavez Rico/Bernie Rico Jr.
My relationship with guitar maker Bernardo Chavez Rico was also as a mentor and family friend. Born October 13, 1941 and 12 years older than me, we were born in the same neighborhood, East Los Angeles. To distinguish between his father, Bernardo Mason, and himself, everyone called the elder, "Señor Rico" and his son Bernie. At three I remember being carried into the Rico guitar shop by my father, Mike Apodaca. Bernie learned to work on guitars from his father as I learned from Bernie and my father and others. This is how apprenticeships worked for hundreds of years.
Children were raised to work in their family's or friends businesses. A large percentage of the music products industry still today is family owned and run. As Señor Rico shared his knowledge in building Flamenco guitars with Mike, a 19 year-old Bernie would hand a seven year old Becky a piece of bone with a pencil line on it and tell her, "Sand this till you get to the line." She grew up thinking all guitar players worked on their own guitars. At seven, after studying classical guitar, her household chore was re-stringing the guitars, so it seemed normal.
In the 60s, we were surprised when Bo Diddly's rectangular guitar came into Bernardo's for repair.(1) At 13, I watched Bernie scrape necks building his own guitars and grinning from ear to ear, while men played Flamenco guitar in the small doorway. In 1970, Bernie was 29 and was getting orders for acoustic guitars from Gordon Lightfoot and he was teaching a 17 year old girl fretwork on weekends. I came home at midnight excited to tell my parents about seeing Al Dimeola perform and in the den were several guitarist, including Bernie, Dad and Flamenco dancer's Carmen Amaya's(2) guitarist, Enrique Heredia playing "pass the guitar" entertaining each other.
After college I stopped in to see Bernie, he yelled, "Come try my electric guitar!" It was the closest action on an electric I had ever felt. His were always the best finishes and the finest wood. He showed Dad and I a letter from Gibson saying his Seagull was the best new model. Most people don't see the connection between Flamenco and Heavy Metal(3). Flamenco guitar building requires low action. The low action appealed to the Heavy Metal players. They wanted something fast, hard and could keep on rockin'. How did anyone know that an East L.A. neighborhood guitar shop would have such an impact on Heavy Metal? Eventually, Bernie put bodies to match. At Bernie's first NAMM booth, Leo Fender and George Fullerton come over to check it out and congratulate. Bernie's company became more successful with carved bodies. He influenced future makers in their designs while he raised his sons Bernie Jr. and Joey in the same industry as his father.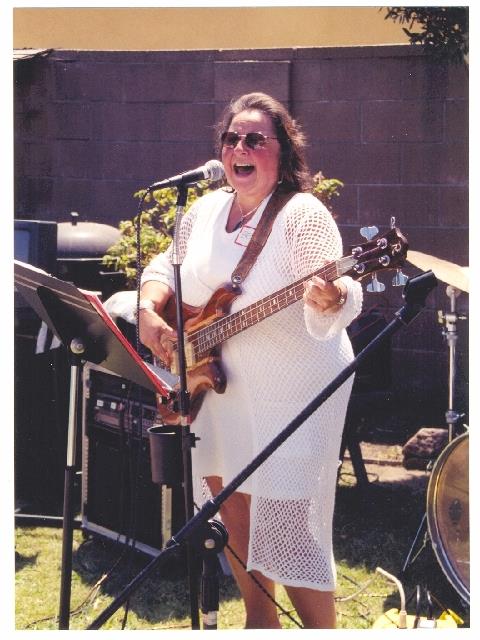 PINIMAGEBy 1978, I switched to bass. He offered me a Koa wood, neck through the body bass for $700.00. It was the Eagle retailing at $1400.00. I didn't know I was going to continue on the bass and declined. His electric guitars soared. He created models that no one had seen before. We only got to visit now a few times a year with his busy schedule and starting my own store. Bernie Jr. was right by his side working as Bernardo had worked with his father. During the year Dad would talk to our Flamenco guitar friends and would end the conversation in Spanish with, "A la Bernardo's. Si, a la Bernardo's," meaning, "I'll meet you at Bernardo's booth at the show."
By the 90s I was regularly attending the vintage guitar shows looking for parts and the '78 Koa wood Eagle I passed up. It was over $3,000 retail to get a B.C Rich that was equivalent. At every guitar show I carried seven one hundred-dollar bills. My compadre, Ronnie, came up and said, "I found your bass in the next room!" There it was for $1,200.00. I left with it for $700.00.
In 2000 I went by the B.C. Rich booth on Friday and didn't see either Bernardo or Bernie Jr. I went again on Saturday. Bernie Jr. saw me and took me aside and told me that his dad had a heart attack and had died. Neither of us could speak. He showed me the SR Exclusive that carried both his signature and his father's signature and said he was only making 100. Offering condolences, I also asked him to make me one. There was never a discussion of color, features, deposit, paperwork or invoices.
About 6 months later, a box arrived and it was a beautiful purplish SR Exclusive with the serial number 004. I have not found one comparable sale for insurance purposes. In appraisal courses we were taught, if you can not find a comparable sale, then you have to find a similar situation with another maker and model that would be equivalent. Who is equivalent to B.C. Rich? Which instrument maker, before he passed away, designed an instrument with his own signature and his successor's signature on it? Bernie Jr. is the only one I could ask what it would cost to make a duplicate unless someone knows of a comparable sale. We need to help each other as an industry and share our knowledge. Bernardo lived 58 years and helped and shared so much. Bernie Rico Jr. Guitars has kept the pride of quality and craftsmanship in the Rico name like his father taught him.
---
(1) Premier Guitar Magazine
(2) http://www.omayraamaya.com/carmen_home.html
(3) Vintage Guitar Magazine