How the Grinch Steals Your Guitars(1)

Tell your family what you've got . . . or maybe not?
Rebecca Apodaca © 2010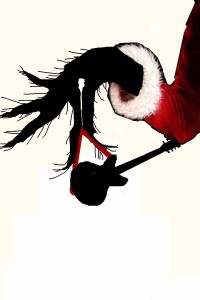 PINIMAGEIt is important for us to keep track of our personal instruments and collectable industry memorabilia and to have appraisals done. Start an inventory list. Use a simple excel program to list the instruments you have. We all track our business inventory, but do you have one for your own personal collection?
When a music store owner dies
– A while ago, we did an appraisal for an Estate Settlement of a retired music store owner that had passed away. We were called to view four to five instruments to see if they were worth anything before they "put them in the trash bin with the rest of his junk," as I was told. Unfortunately this is how some of our family members and certain other professionals view musicians. The professional trustee and the lawyers had already reviewed his "real" assets and this was just a few leftover pieces. We met the trustee at a storage unit.
Classic Band Instruments – I saw about 20 band instrument cases that were from the 1940s to '60s. I told the trustee, "This is more than four or five instruments. You have four alto saxes, two trombones, piccolos, a flute and it looks like a Bari-sax there in the back." She was amazed. She said, "You know what types of instruments are in the cases before opening them?" That is when I realized our industry has unique knowledge. This is something we do daily as we look over our inventory. After reviewing the instruments we realized they were classic professional instruments including a rare Conn Bass Saxophone. She had bags of musical accessories she was throwing in the trash bin until we stopped her. There were 20 to 30 mouthpieces from his store in their original boxes valued at $2,500. She said he repaired instruments. When I asked what had happened to his tools and parts, they looked very sheepish and said that they had dumped everything except the instruments I was appraising.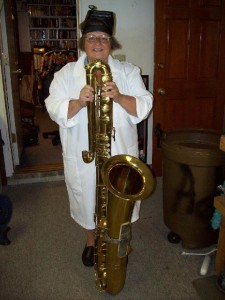 PINIMAGEFair Market Value is the value required for Estate Settlement appraisals(2). The unplayable instruments were
appraised at $15,000. Investing $7,000 in repairs they would be valued at $36,000. The professional trustee and attorneys had no idea.
Start an inventory list– An inventory list should include current date, instrument type (they might not know a clarinet from a cornet) brand, model, serial number, invoices, manufacturing date with any features including what you paid for them. Also list if there is any celebrity status to them and include the story or proof. Most appraisals are based on what they would sell for now or cost to replace, not what you paid for them. Decide now what will happen to those instruments if something happens to you. If you do not have a family member to leave them to, schools, museums, and foundations will accept donation of musical instruments. NAMM has the Museum of Making Music that includes a library that is always looking for certain instruments and catalogues from the past. There is the Mr. Holland's Opus Foundation, the Katrina Musicians, the Nashville flood victims or local Senior Centers. Place a printed list with your important papers and let someone in your family know where this information is …or maybe not.
Family greed rears its head – The other side of the coin is the family that called us from another state saying their 40 year-old brother-in-law had died on Saturday. It was Monday morning and they were already looking for an appraiser. They said they were flying to his location to make arrangements and asked if we could travel and meet them at his home. I told them we could meet them on Wednesday. They were glad because the coroner would be done removing the body on Tuesday. He had been dead for a week in his home. The sister-in-law said he was, "some kind of nut who thought he had a great guitar /amp collection," but they hadn't spoken to him in years and they were hoping they could, "sell what he had to have it over with." We put on our medical gloves, masks, and coats to protect ourselves since the cause of death had not been determined.
A corpse, 23 amps and a Nick Lucas guitar – Surrounded by the remaining smells of a corpse and three cat litter boxes we found 23 vintage amps and 18 guitars including a Gibson Nick Lucas model guitar (the same model Bob Dylan used(3)) worth over $20,000(4). The instruments were removed, inventoried, and valued. We were asked to aid in selling the amps, as the death was a financial burden to the mother. I received another phone call saying they had found an entire storage unit full of instruments. After I valued the amps, I sold about $5,000 in one weekend. In trying to relieve a grieving mother, I made the error of letting them know that one of the guitars alone would cover all their expenses.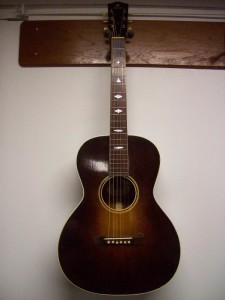 PINIMAGEThe next day the man's brother called wanting the remainder of the instruments and was canceling the appraisal. They were driving them back to their own state and he would handle it all. When we met with the brother and his mother, the brother immediately asked me, "Which one was the expensive guitar." I didn't speak. He
tried a second time by saying, "Which one is the special guitar?" I told him, "All your brother's guitars were special to him."
Contact us for formatted inventory sheets admusic@cox.net
---
(1) Ryan Fawley, Operations Manager
(2) Internal Revenue Service
(3) http://www.gibson.com/en-us/Lifestyle/Features/legendary-guitars-bob-407/
(4) Vintage Guitar Price Guide 2009, Greenwood A., Hembree G.