The J.B. Velluame/Jean-Baptiste Vuillaume Violin
Vell-ah-meh Vee- yohm
by Rebecca Apodaca © 2010
In 2005, I received a violin from an elderly woman who wanted an appraisal and restoration for a violin that she was giving a relative. She had a great story of provenance (history of ownership). There was a letter from 1964 between two of the previous owners and a newspaper clipping about the instrument and its history, referring to it as a 175-year-old J.B. Velluame violin. It was possibly misspelled, referring to Jean-Baptiste Vuilluame(1) (1798-1875). Vuillaume, together with Nicholas Lupot, is the foremost French stringed instrument maker.(2)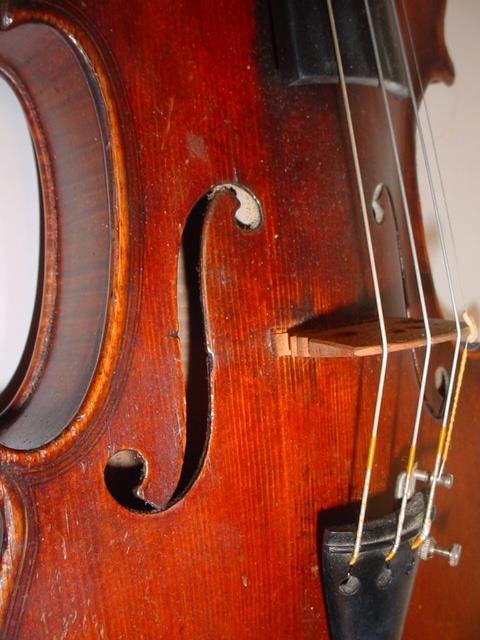 PINIMAGE
Slaves, Rats and Painted Red
The newspaper clipping stated the violin was recovered from a French slave, who brought it to America during the early days of New Orleans. The violin had been painted red and had teeth marks from rats gnawing on it while being stored in an attic before it was given to a child. The child grew up to be a Christian fiction writer, who eventually gave it to an Evangelist Reverend in Michigan. The writer wrote the Reverend a letter in 1964, stating she had previously sent the violin to Lyon & Healy of Chicago, IL for restoration. There was no documentation from Lyon & Healy or any other credible source stating it was a French J.B. Vuillaume. The client felt it was worth over $100,000.
You can't always believe what you read
The label read Antonius Stradivarius Cremona faciebat Anno 17 __ AS (Stradivarius is the Latin pronunciation of Stradivari).3 Labels can be replaced or misread. News articles can also contain factual or typographical errors. A master violinmaker will have apprentices make exact copies of the master's design to learn the correct luthier techniques. Violinmakers, such as Vuillaume, have tried to duplicate Stradivari's tonality. Many apprentices label it with the master's name and the year that the original violin was made, because the design is of the master.
I'm sure many dealers have the following scenario. We have the "Stradivarius of the week club." Every week or so, we get a client who calls, saying they were either given or found a violin from grandma's attic that says "Stradivarius" and want it either restored, authenticated or appraised. "Grandma says it's a Stradivarius" and we are told, "My Grandma wouldn't lie!" We are put in a delicate position. I tell them that Stradivari made about 1100 instruments and they have mainly been reported. We also tell them, that it could still be of value or it could be from a Sears & Roebuck catalogue, but we need to see it. We then offer a consultation to see if it is worth having it appraised.
Before undertaking a conservation or appraisal project, it is not necessary to be an expert on that instrument, but rather to have research skills and sources to investigate all the information about an instrument, including consulting others, as necessary. It is a process of research, evaluation, comparison and approach to the unknown. This gives the restorer the knowledge to understand what materials they should use to match the materials of an instrument. For an appraiser, we need to know what year, make, model and condition to search comparable sales. An authenticator may be contacted prior to an appraisal, and sometimes two to three authenticators may be consulted.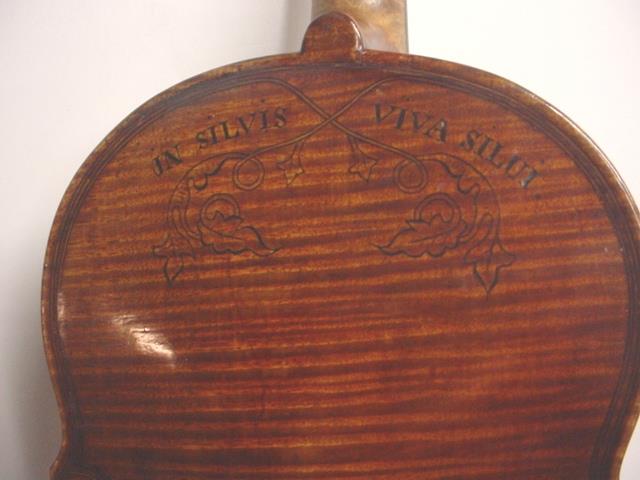 PINIMAGE
Latin Inscription – This violin had an ornamentation of a Latin expression in the back of the violin that read "IN SILVIS VIVA SILUI. CANORA IAM MORTUA CANO." English poetic interpretation: "Speechless, alive, I heard the feathered throng; Now, being dead, I emulate their song." (4) As a tree, the wood was alive but silent, listening to the singing birds. Now that the tree is dead and made into a violin, it can sing its own song.
Vuillaume had purchased 144 violins of the top masters, including 24 Stradivari violins (5). In our research, we found the original label(6) of Vuillaume. He was accurate about numbering each of his violins with his own label that bore the J.B. Vuillaume name. This violin was a professional quality with beautiful wood; but after research and comparison to other J.B. Vuillaume violins, it did not have the same characteristics.
WHAT IS IT???
Vuillaume also had an apprentice, Ludwig Neuner (1840–1897), of the company Neuner & Hornsteiner, of Germany. Neuner went to Paris and worked as a violinmaker for Jean-Baptiste, thereby coming in contact with many examples of classic Italian violins. He returned to Mittenwald Germany with examples of the models and had the best of the Mittenwald craftsmen copy them to encourage a rise in the general level of quality produced in Mittenwald.(7)(8)
Violins are the hardest to authenticate and appraise. There have been no major structural changes to violins in over 300 years. Band instruments have evolved by the number of keys or a change in the valve systems, as well as the pitch of the instrument not being today's standard A440Hz. Guitars have gone through evolution such as different style bracing, body shapes, and plywood. Because of these recorded changes, we can more easily determine the year of manufacturing of other instruments.
In 2005, we set the Fair Market Value(9) for the violin, including Dodd and A. Nuremberger bows with case $8,700.00 (10)(11)(12)(13)(14). I was truly expecting a very disappointed client, but when I showed her the appraisal, she said it made sense as she had paid around $2,000.
We welcome readers to contact us if they would like an instrument researched. Contact Rebecca at A & D Music
References
---
(1) "The Violin Book", Balafon Books
(2) Cite De Musique Museum, Paris France
(3) "The Dr. Herbert Axelrod Stradivari Quartet"
(4) "EC Brewer's Dictionary of Phrase and Fable"
(5) Smithsonian Institution, Washington, D.C.
(6) Physics World
(7) Matthias Klotz Germany
(8) Maestronet Toronto, Ontario
(9) "Uniform Standards of Professional Appraisal Practices", Washington, D.C.
(10) Andrew Riley Violins, 192 High Street, Egham, Surrey, TW20 9ED
(11) used violins.com
(12) All Things Strings Escondido, CA
(13) American .Federation of Violins and Bow Makers Raleigh, NC
(14) Cozio Auction House, Sweden
Additional Sources
"Italian Violin Makers", Karel Jalovec
The Violinman of the United Kingdom