by Rebecca Apodaca
IDENTIFICATION
By 1991 I had been repairing guitars for 30 years when guitar collector, Ron Catano contacted me. Ron recommended that "Guitar Slinger", Carlos Figueroa have me check out a guitar he had owned since 1965. I had just finished my first complete restoration of a two-tone smoke green Gretsch Anniversary model belonging to film industry's, Snake Garcia and the word was spreading of my abilities. Figueroa had helped a friend move a refrigerator years earlier. The friend could not pay and gave him a "Gretsch-looking" guitar covered in mud instead. It sat in a closet for many years with half the external parts missing, it had no model nameplate and the wiring messed up. They felt it was a forgery because there were "fake f-holes" and it had other manufacturer's parts. The finish was badly damaged. The Internet was not in full swing, chock full of good and bad information as it is today. I started buying books for my library to research it. I knew it was a true Gretsch. Was it a Tennessean? A Country Club? Was it a 6120 or a 6119?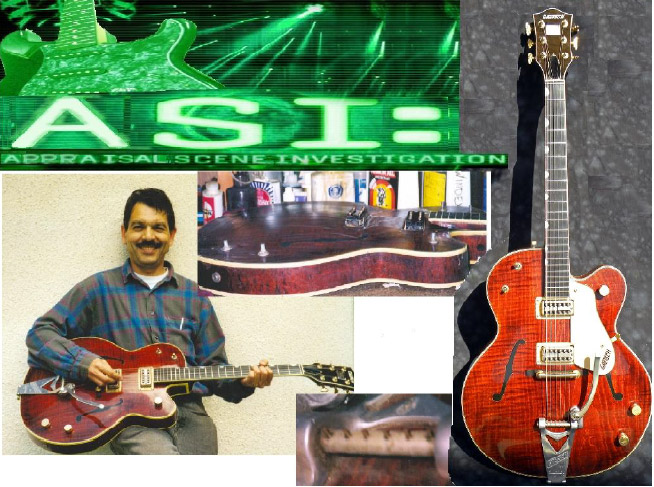 PINIMAGE
IDENTIFY
Before an appraisal or restoration is done, the first thing is to identify. Instruments are made all over the world fakes and forgeries abound. I needed to know what it was before investing in vintage parts and the time and labor intensive process of restoration. It's not like appraising a house that has sat in the same location and all history of ownership is recorded in public records. Standards are constantly changing in our industry and manufacturers commonly use parts and serial numbers from previous years or numbers are assigned by different manufacturing locations. Paper labels peal off or become faded.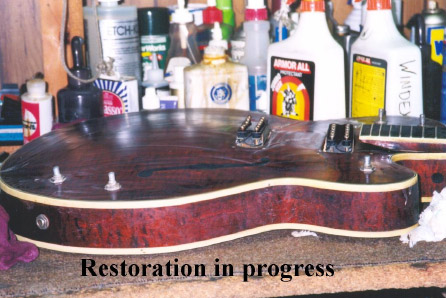 PINIMAGEYOU CAN NOT JUDGE BY SERIAL NUMBER ALONE!Is the serial number embossed? Is it on the back of the headstock or the end? Is it a paper label, and what color is the label? After much research, I decide it was a Gretsch Country Gentleman. This is the same model owned by George Harrison. It had some features from '60 and '62 so I wasn't exactly sure on the year. The gold plating was worn off the Bigsby tailpiece. Now where was I going to find all the missing parts?
I had been attending the Texas Guitar Show, Winter Nationals at Pomona, CA. The show was eventually called California World Guitar Shows run by Larry Briggs. In amongst the guitar dealers were a few guys who dealt in parts. There were cardboard boxes full of various new/used parts that I would have to dig through. Nothing was marked. One dealer had Gretsch parts. I priced out my parts, contacted Figueroa who gave me authorization to buy only some of the parts.
Figueroa wanted to keep as many of the parts original but budget was an issue. We decided to do this restoration in stages. My first stage was to get the wiring connected and the body work done and playable. We would deal with some of the other parts later.
I would be working on the Gretsch in between repairs of instruments that customers needed "yesterday". The first phase took almost two years. I experimented using process of restoring the finishes similar to violin restoration. In violins you NEVER refinish. Many techs were stripping guitar finishes to make them look "as good as new." I realized that if I could just clear up the oxidation, that underneath was all the true beauty. I like to restore an instrument to make it look the way the manufacturer first wanted it to look without refinishing. When Figueroa picked it up he had a smile that went from ear to ear and boy did he make it sing! In 1995 I set a value of $5,500.00 by researching comparable sales.
FULL CIRCLE
From 1995 to 2007 I would find other original parts, contact Figueroa and it would come back for one more part of its history restored. In 2007 one of the pickups gave out. I took it to a few other electronic techs and everyone told me it was just not generating the ratings it should. They each recommended sending the pickup to TV Jones. The pickup was removed, boxed up but my gut told me NO!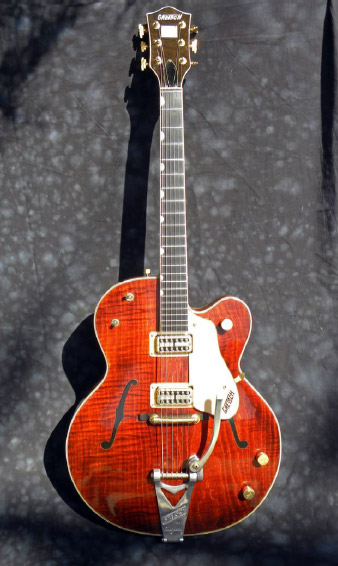 PINIMAGEI contacted my "Gretsch guy" he said, "I know what is wrong with it." "The specs are different." I asked him how he knew that. "I was the former shop foreman for Gretsch and I designed that pickup. If that isn't the problem I have Fred's winder." "Fred?" "Yes, I have Fred Gretsch's original pickup winder." GEEZ! I shipped it out to him and waited three days. I called him to see if he received it. "Oh yeah, I got it, I already fixed it and it's on the way back. WOW ! The guitar went full circle! From the factory to a player, to being almost destroyed, then to my hands, now back in the hands of the original designer!"
By 2008, I had evolved A & D Music into focusing on restoration and appraisal. The pickguard was the one last missing piece to be found. "Gretsch guy" called asking me to make a template of what I needed as he had just discovered a few NOS pickguards of that era. Figueroa requested a new appraisal for insurance coverage. My Appraisal Research Assistant, Ryan Fawley, had discovered that during 1962 Gretsch used an aluminum tailpiece. Those were the final pieces of the puzzle.
---
Replacement Value Comparable: $9,870.00 1962 Gretsch Country Gentleman Electric Guitar with original Hard Case
Replacement Value Comparable is the price in terms of cash or other precisely revealed terms that would be required to replace a property with another of similar age, quality, origin, appearance and condition within a reasonable length of time in an appropriate and relevant market. Intangible provenance value is additive as appropriate.

This article was published in the May 15, 2010 – Volume 27 of Music & Sound Retailer Magazine – www.msretailer.com