By Rebecca Apodaca
Some of the most amazing fretted instruments are right here in the U.S.A. Oh, oh, we've got cars. We've got stars. We've got great guitars, oh, oh. "Anything you want, we got it, right here in the U.S.A.," said Chuck Berry. Now prove it! We've seen recent articles about fakes being sold in stores. Bolt-on necks can be removed and, if you are selling/buying vintage instruments, you should have an authentication done by a knowledgeable person. Not just a piece of paper that says "Authentication." In that authentication, it should break down specific points such as logo and placement, knob styles, nut width, fretmarkers, potentiometers, measurements, binding placement, known modifications and why it is what it is, with references.
---

Late 1951 Fender Telecaster
A client in his 60s called whose father had bought a Fender electric guitar while living in Hawaii in either 1952 or 1953. "It's just an old, beat-up guitar and my grown son wants a new one, so we thought we might be able to sell this one and buy him a new guitar. I'm a woodworker, and I decided I'd refinish it to make it look better."
"Have you already refinished it?" I asked calmly as my brain was screaming, "Please, NO! Please NO!" Luckily, he was a procrastinator, and hadn't. He had us do an authentication and appraisal for Fair Market Value.
The case was a Thermometer-shaped brown hard case. When opened, there lay a butterscotch-colored piece of gold with a black pickguard. On the bridge plate was stamped 1366. He asked us to take it back to the shop for a written estimate of a restoration. Between 1951 and 1953, Fender did not record its production numbers. We authenticated by detailed features such as logo style; if the screw heads were Phillips or slotted; and the measurement between the 12th fret fretmarker dots. We recorded 12 feature details for our authentication. In 1952, Fender made a change from one knob being a "blend" to creating a tone control. The potentiometers had been changed in 1962 to make this same change. All indications showed it was a 1951. As an authenticator and technician, I had to check for sure.
I said to my Research Assistant, Ryan, "We need to pull the neck." "I don't want to look," was his response.
In three years of working with me, he had NEVER had a moment's hesitation about anything we had ever done to repair or inspect an instrument until now.
For some reason, it angered me. I used the "F" word on him: "FINE!" I walked back into the shop, closed the door, took all my measurements of string height, measured angles and counted how many turns it took to unscrew each bolt (to make sure I precisely returned it to the original form). There was a beautiful penciled date of 10/28/51 TG and the corresponding neck cavity was penciled 11/1/51. I took pictures, reattached the neck and made sure all went back exactly as I had first laid eyes on it.
TG stands for Tadeo Gomez, one of Fender's finest assemblers and neck shapers. It turns out Tadeo was born in the same part of Mexico as my grandmother was, and is buried at the same cemetery in Los Angeles. I finished the Authentication Report on October 28, 2010, the guitar's 59th birthday. We sang it happy birthday. We advised the client to sell it "as is" to show how authentic it was, and let the next person do the restoration (although I was dying to do it myself).
Fair Market Value: $32,500.
---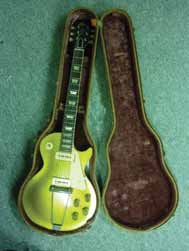 Late 1952 Gibson Les Paul
In 2008, a client told us he had a Les Paul Gold Top Prototype. I did some brief Internet pre-research and saw what others had listed as a Gibson Prototype. The guitar was in a brown damaged case of that era. By first inspection, there was no serial number. Our client, in his 60s, said his father had gotten the guitar in New York in 1952 or 1953. He declined the appraisal at that time, but had been told at an auction house that it could be worth $25,000.
In 2011, I received a phone call from NAMM's Museum of Making Music, asking for some advice on the values of sheet music. There was a renovation going on. I asked if there was any way I could help. "We've been looking for six months for a 1952 Gibson Les Paul to replace one that we had on display. You're in touch with many collectors. Do know anyone that might loan us one?"
I said I would make calls. Within 45 minutes, I had located this one and the client agreed to put in on loan to the museum. First, it needed to be authenticated and appraised for insurance coverage. After verification of 16 features, including pickup screw placement and the classic post-war logo, with open "b" and "o," it was not a prototype. Gibson had not serialized the 1716 Les Pauls they made in 1952. Some of the research said that Gibson didn't know if it was going to be a success and was apprehensive to put its name on it. In 1952, the Les Paul model sold more than all other models combined and there are more than 175 Les Paul models that have been released since then.
Replacement Value Comparable for insurance coverage: $20,000.
To obtain references for this article, e-mail dferrisi@testa.com.
---
This article was published in the August 15, 2011 – Volume 28, No. 8 of Music & Sound Retailer Magazine – www.msretailer.com