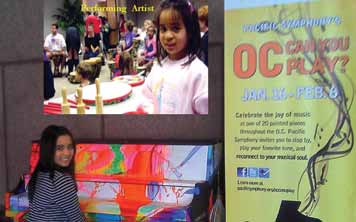 PINIMAGEBy Rebecca Apodaca
In 2000, NAMM started the Sesame Street Music Works program. The program is aimed toward preschoolers' rhythm education. NAMM President Joe Lamond engaged the icons of Rosita, Elmo and Cookie Monster to head this campaign. The intent was to develop a relationship between preschool parents and music stores by teaching basic rhythms and music symbols. By bringing the preschoolers into our stores, the hope was to enrich those kids' lives with music while we sold their parents rhythm instruments; older brothers and sisters would buy guitars, band and orchestra instruments; and parents would get re-involved with the music within themselves.
We would all benefit.
Sesame Street Music WORKS!
Our store jumped in with both feet. We intended to canvas 100 preschools. We set up demonstrations at the schools using the tools they gave us, including a video, posters and comic book-type handouts. These were our gifts, along with a free rhythm/percussion and "Families of Instruments" lesson, to each school. The schools developed their own programs. Some did it once a week and others once a day. We contracted with a preschool education major to host "Rhythm Birthday Parties." She was dressed in a ball gown as The Rhythm Princess who gave a small percussion instrument as part of the goody bags that the hosting parents purchased from our store.
Purchased Products: I tracked one family's purchases from the first Rhythm Band kit of a four-year-old to a now-successful 15-year-old pianist, Cecilia Catano, who performed Beethoven's Fur Elise on 20 pianos in "OC Can you Play," sponsored by The Pacific Symphony Orchestra (PSO) in Southern California. For her, it was "CC Plays OC," on www.youtube.com. Twenty pianos were placed throughout Orange County, Calif., to enable people to experience music. Participants were encouraged to create events around the pianos and to submit a video for judging. First prize was two Summer Season tickets to the PSO.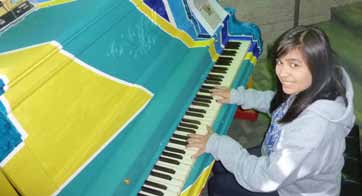 PINIMAGEHere's what the Catanos purchased during those 11 years: one preschool rhythm kit; a Casio four-octave keyboard; a Schafer and Sons acoustic piano; a Fender Rhodes Electric piano; a Yamaha full 88 keyboard; three Shure microphones with Atlas stands; two Nady P.A. systems; a Lanakai ukulele; seven Fender, Gibson, Taylor and Silvertone guitars, with restorations on three, as well as yearly maintenance on the rest for dad; four Pignose, RMS and Fender amplifiers; an Artley rental clarinet; countless books, cables and tuners; dozens of strings; and private lessons. I was the one to whom they came to have an appraisal for their insurance coverage. Not all purchases were from us directly, but we were the source for referring items we did not carry. We were the ones they came back to. We were the ones their family trusted since their little girl was a four-year-old.
Total Purchases: $18,500
Growing a Valuable Citizen
I interviewed 15-year-old Cecilia Catano and then her father, Ron Catano, to find out how music influenced her life.
Rebecca Apodaca: How do you think your preschool years influenced music in your life?
Cecilia Catano: I appreciate music more than other kids do, and I am more open to different types of music and people. I love all types of people and many different styles of music. I have attended many professional musicals, music concerts and even Light Opera.
R.A.: Do you read and write music?
C.C.: I do read and sight read, but I don't write music.
R.A.: What type of student are you in your other studies? A? B? C?
C.C.: I'm mainly a B student. I do try my best and I know that music has helped me in my memory skills and math.
R.A.: What types of music groups have you been with?
C.C.: I was first singing with my parents in a church group. I had my own mic by four. I have been in elementary school choirs and piano recitals through the city of Cerritos piano program. My father also put together a group of musicians who I get to play piano with. We play everything from rock 'n' roll to jazz, pop, rhythm and blues, and funk. I am part of a program through Cerritos College's Music Department learning piano at the college for the past six years.
R.A.: Did you win the "OC Can You Play?" competition?
C.C.:No, but I was in the top contenders. It was a great family experience and I learned so much. I even edited my own video. I did receive two tickets to a PSO performance.
The Passion of Music
I now switched to speaking with her father; Ron Catano.
R.A.: What would you like to see your daughter do with her music education? Recreational? Professional?
R.C.:I tell her that, no matter what she does, the importance is that she needs to hold on to the passion of the music. Music can never be taken away from her. It will be her decision.
I know this young lady and her family will always pursue music, because they have made a decision that the education, appreciation and passion of the music is what is valuable. So, next time one of your staff says, "Oh, it was just a kid on the phone," think again. You don't know who that kid is, who their parent is or know who he/she will be in the future. Invest now in that relationship. It is valuable!