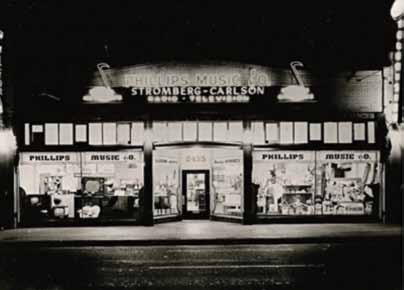 PINIMAGE
By Rebecca Apodaca
We are all talking about how to survive in today's economic situations of low income, lowquality imports, online stores, big-box stores, school budget cuts and a falling stock market. Many have already closed their doors. I attended a concert in Los Angeles where the performerwere the former customers of a retail music store called Phillips Music Company. It was located in the neighborhood in which I was born, Boyle Heights, in East L.A. The concert featured music combining Jewish lyrics with Latino beats; Japanese Taiko drumming with Mariachi accents; and Jewish Klezmer rhythm with Corridos. The performers' ages ranged from 15 to 85 years old. The older generation had continued to teach the younger as Mr. Phillips had taught them. It included teens from the rock school. One woman sang "The Jewish Mambo." Another, a Latin version of Annie Lennox's "Sweet Dreams." A poet was named the Tao of Funkahuatl. He did Latino urban poetry on top of a funk band. By the time the concert was over, I was actually jealous of another store. This store had been closed for 25 years, yet the community was doing a tribute to it. They recognized that this store, along with music, tied them all together. It was the center of the community. How many of our stores today are the center of our communities? Their slogan was "The House of Quality." This concert was made possible, in part, by a grant from the National Endowment for the Arts and the California Council for the Humanities.
From the 1930s to the 1980s, The Phillips Music Company was run by the late Bill Phillips. Phillips grew up in a Jewish family in Rochester NY. He ended up in the Navy and trained to be a bandleader. It was more than a music store or a record shop; it was a space where multi-cultural communities gathered to explore traditions and invent new music. Phillips Music Co. wasn't simply a place to buy instruments and buy records; it was a community living room. It was a utopia of Jewish-Mexican-Japanese families that marked time before and after World War II. Phillips opened a music store where many music stores already existed. When the Depression hit, three stores closed. He was the one who stuck it out by getting involved in his community.
Involved in His Community
After his friend, Kenji Taniguchi, was released from the Japanese internment camp, Phillips provided a section of the store, rent-free, for Taniguchi to sell sporting goods until he was able to open his own store. Bill Phillips headed the re-election committee for Ed Roybal, the first Mexican American on the Los Angeles City Council from 1949 to 1962. In 1964, Phillips co-founded Pan American Bank. Paramount Studios contacted Phillips for Klezmer music. Phillips had plenty of the sheet music but, by then, it was mainly Latino kids who were rehearsing at his store. So, he put together a Klezmer band of Latino kids, who are the musicians you hear in any of the Klezmer music scenes filmed during that time. Music helps identify a local region, and a local culture.
Phillips had small in-store recording booths that were used by musicians for cutting demo records and by others for recording audio postcards to send to family back in Mexico, Japan or Europe. Phillips also offered 10 free music lessons when they sold an instrument. The most common thing that everyone says is that none of them was ever asked to leave. Everyone talks about how they would go in and browse the store with no money to spend, but they were never asked to leave. They would pick up instruments or pick up records and just hang out, look at equipment and listen. They could go in the back room and listen to every type of music rehearsal, from Big Band to Klezmer and from Japanese Jazz to Rock and Latino marimba bands, or to try out instruments.
Famous Bands and Music
Some of the more famous bands and musicians were Hiroshima, Los Lobos, Willie G. and Thee Midnighters, Lalo Guerrero, Cannibal and the Headhunters, Tierra, El Chicano, War, Los Angeles Community Klezmer Band, members of Tito Puente Band and members of Count Basie Orchestra. These musicians were performing songs like "Land of a Thousand Dances," "Whittier Blvd." (covered by the Rolling Stones as "2120 South Michigan Ave."), "La Bamba," "Will the Wolf Survive?," "Low Rider," "Tequila" and "Together," to name just a few.
As I stood with friends, I realized I knew all the lyrics to "Hava Nagila." There are few areas in America that were as ethnically dynamic—and as religiously and politically tolerant—showing community pride, as Boyle Heights was. Its population was depicted as more civic-minded than were the residents of any other neighborhood, with more than a hundred coordinating councils, 50 community centers and associations, and "probably more social workers per cubic foot of sorrow than anywhere else in the world."
Bill Phillips was survived by his two sons. One spoke of his appreciation to the community for putting on this concert with many of the performers who had gotten their start at his father's store.
The value of a music store can be priceless in a community. We should all take a lesson from Mr. Phillips. I only hope my children can feel this proud of our store after I am gone. Will yours?


---
Contact Rebecca at admusic@cox.net. To obtain references for this article, e-mail dferrisi@testa.com.