by Rebecca Apodaca for publication © March 2010 issue,
Music & Sound Retailer Magazine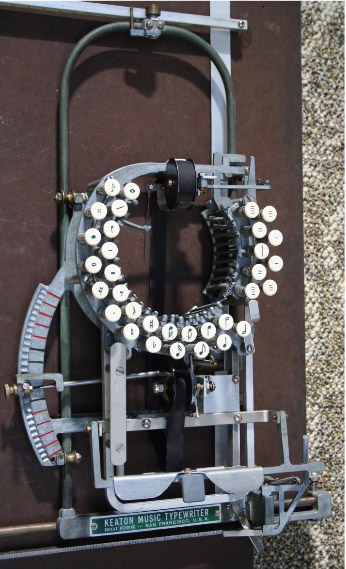 PINIMAGE
As a qualified appraisers with the American Society of Appraisers and restorer of musical instruments and their related accessories, I come across many instruments; one of a kind oddities, or perhaps even the prototype to a model that became a standard in our industry. Every one has fun watching Antique Roadshow trying to secound guess what that Gibson Guitar might be valued. This column will be for those interested in seeing some different instruments that our industry has produced over the last 300 years. I picked three hundred years because that is the oldest instrument I have worked on. This column might give everyone a bit more knowledge and pique some interest in instruments most of us have rarely seen. We keep a strict Privacy Policy but I received permission to use my client's name and to reveal the value. Brooks Anderson of Northern California contacted me about appraising this unusual machine that was originally owed by his father. Although not truly a musical instrument it was a related accessory that was used by small publishing houses and band directors. His father originally owned it. It is called the Keaton Music Typewriter made in San Francisco, California. Keaton applied for the patent in 1933 and again in 1947. It was finally approved in 1953. The Keaton types on a sheet of manuscript paper lying on the flat plate under the machine. One was sold in 2005 at famed Bonham's Auction house in London. It is rare to find one in workable condition with all the keys. This one in particular was in good working condition except for one missing key. The owner was looking to sell it.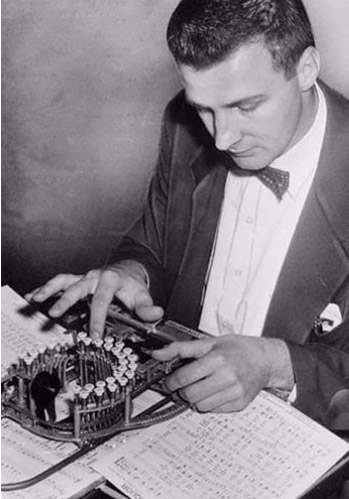 PINIMAGEAs a legal appraiser I must actually see the instrument to witness it exists and to note the condition. If a client is unable or unwilling to ship it to us we contract with the nearest reputable repair technician in their area to be my eyes and ears. The tech fills out a detailed report and takes technical photos. This is much different that the inexpensive online appraisals. This appraisal was accomplished with the help of Mick Loveland of Loveland's Music in Northern California.
According to the instructions, this machine was "long awaited by music writers and printers to speed and ease their tasks – a machine designed solely to type precise music notation (not a refitted alphabet typewriter) and to do it swiftly and inexpensively". One commentator wrote, "Swiftly? The only way to make this machine any slower would be to douse it in molasses… in January… in Maine!! Inexpensively?! It was $255 when new; a new 1956 17″ TV was only $115 in the Sears catalog! Had this machine truly been swift and inexpensive, it probably would have enjoyed more success. Its lack of success is probably why they are so rarely found!" This machine would be the predecessor to software such as Finale or Sibelius. We've come a long way baby!

The Technical Side – The typewriter has a handle, called the scale shift handle, to the left of the circular keyboard, which moves over a notched metal arc. This moves a long needle, adjacent to the ribbon, which indicates where the next symbol is to be printed. The machine contains two keyboards – one smaller, stationary keyboard and the other larger, moveable keyboard, which is moved by the scale, shift handle. The smaller keyboard contains bar lines and ledger lines, which remain in a fixed position to the staff paper. (Preprinted staff paper is used with the Keaton typewriter.) The larger part of the keyboard contains the notes, rests, sharps, flats, and other musical symbols.
–
There are three spacing keys used for different purposes such as adding spaces for accidentals, grace notes, or dots. The keys are pressed straight down onto the staff paper where the long needle indicates the position. A printing ribbon runs under the symbols, which allow for the printing to take place.
ONLY 10 LEFT!
–
Although it was not as much of a success to go into mass production, it was a great attempt at a mechanical devise for printing sheet music. Some sources show that there is less than 10 left in the United States that are in full working condition, including one owned by the Smithsonian Institution. This item would be considered "Rare".
After my appraisal, the Music Typewriter was eventually sold to a man in Dubai.
We are welcoming readers who want to find out more information about the history or other details of a particular musical instrument to send in photos with any information that they might have. Send digital photos and information to Rebecca Apodaca at www.admusic.net. Contact us if you want to know more about appraising instruments. If we use your photo and run a story
you will receive a free A & D Music T – shirt.